This week we have improved the installation experience for the Passenger Web App (PWA). We have added an "Add to Home Screen" banner that will pop-up on your clients mobile browser when they access your PWA. This will prompt your client to install your PWA to their device with one easy tap!
Also in this week's release we have resolved an issue with rate multipliers to help reduce errors in rate calculations.
Every week we are working on releasing improvements and bug fixes across Limo Anywhere and our products to help your business succeed. Please see below for further information on our release this week, and stay tuned each week to see what else we are bringing to help you and your business.
Improvements
Improved the installation experience of the PWA by adding an "Add to Home Screen" prompt banner
We have added a prompt banner to the PWA that will pop-up when your client accesses your PWA that will direct them to install your PWA onto their device. This banner will pop-up in Chrome on Android if your client does not have your PWA installed.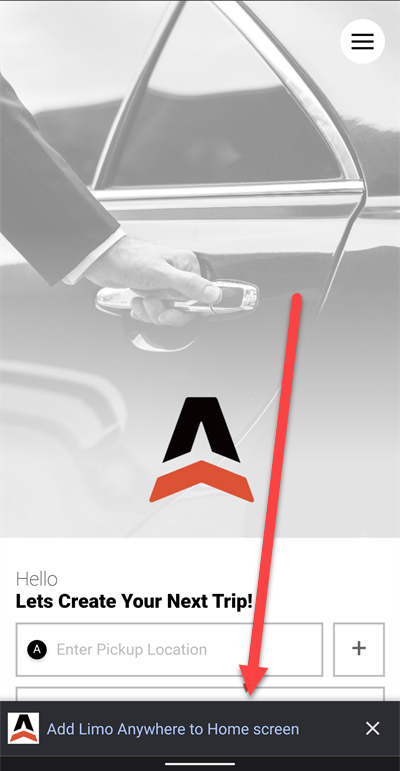 NOTE: Currently iOS does not support PWA install banners. Your clients can still utilize the "Install" option in the PWA Menu.
For more info, check out our article: How-To Utilize the Passenger Web App (PWA)
Bug Fixes
Resolved an issue with '1' being populated into rate multipliers when a reservation is received via LA Net or from a Partner
There was an issue with Multiplier Rates being populated with '1' when a reservation cam in from LA Net or from a Partner. We have resolved this issue and these will now follow your auto-populate multiplier settings and/or your System Rate Manager defaults.
You can set up or edit your auto-populate multiplier setting under My Office>Company Settings>Company Preferences>Reservations:

If the settings is not mapped or it does not apply the Service Type, then we will use your System Rate Manager defaults. Most of the time the default multiplier is set to '0'.
Check out our article on How-to Use The System Rate Manager
Resolved an issue with the Passenger being filled in on a reservation and the account that was created from the Reservation was not designated as a Passenger
Resolved an issue where multipliers in the Rate Table on a reservation were showing to 4 decimal places instead of to 2