The Ores Agent URL allows you to give out a unique URL to the Agent for them to book reservations and ensure that they will be associated with that reservation and receive their correct commission if applicable.
For example, you may have a hotel concierge that you have a deal with to give 5% commission for every reservation they book for their guests to your company. You can give them their Agent URL and start booking reservations for their guests today and will be populated with their commission rate on the reservation.
To set up the Agent's unique URL:
Go to 'My Office' tab in the top menu.
Click on 'Company Resources' tab.
Click on 'Agents'.
Add a new Agent or edit the Agent you want to have the URL.
Enter in a unique alphanumeric code into the 'Agent Web Referral Code'. Note: This code must be unique for each Agent and not contain any special characters or spaces.

'Save' the Agent.
This allows you to see the full unique Agent URL for that particular agent with a 'Copy' button to allow you to easily copy the URL so you can send to the Agent if needed.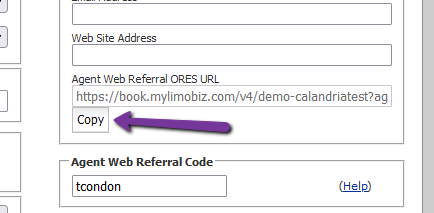 Once the Agent books using this URL they will be automatically added to the reservation they book via this URL.

Other related articles:
How-to Establish and Manage Agents
How-to Manage and Set Up ORES 4