Text Messaging with the Zipwhip Integration
Zipwhip is a new integration with Limo Anywhere that allows two-way texting from your existing business phone number, landline or even a toll free from any computer, tablet, or smartphone. Working from Limo Anywhere it will allow customers, drivers or affiliates to reply to a Scheduled SMS Message sent from Limo Anywhere.  Within the Zipwhip application a Zipwhip user can also send non Limo Anywhere generated text messages.
The Zipwhip integration is available at no charge from Limo Anywhere, but it is required that a Zipwhip account be created.  Visit www.Zipwhip.com for more information including products and pricing.
Using the Zipwhip/Limo Anywhere integration is very straight forward.  Once a Zipwhip account is obtained follow these steps to integrate it into Limo Anywhere.
Within Limo Anywhere click on the 'My Office' icon.
The Company Settings tab will be open by default.
Click the 'Add On Modules' button.
Select the 'SMS Provider' tab.
Click 'Add New' button.
Select ZipWhip as Provider Type.
Enter the Phone Number and Password for your Zipwhip account.
Click the 'Save'.
Make sure ZipWhip is selected as Default.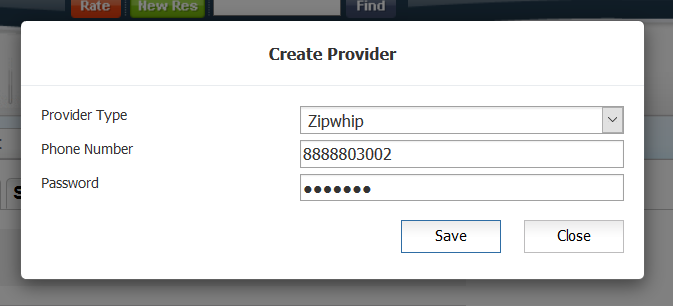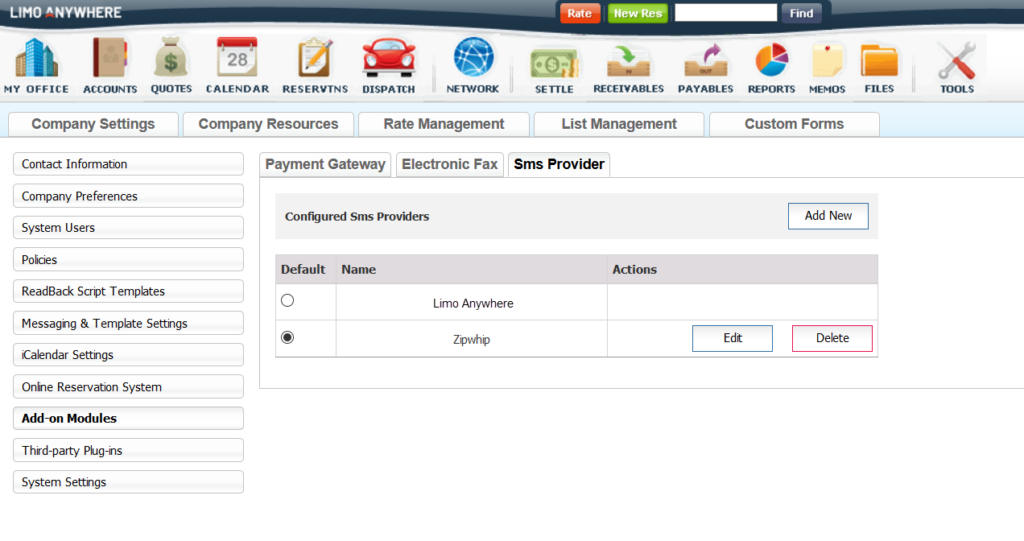 SMS Text Messages sent from Limo Anywhere using the Scheduled SMS Message feature will appear in the Zipwhip application.  The target of the original Scheduled SMS Message  (customer, driver, affiliate) can then respond to the text and responses will show in the Zipwhip app as well.
It will be necessary to have the Zipwhip application open in another tab of the browser, or to utilize one of the Zipwhip desktop applications to monitor responses.