How to Create an Invoice
Invoicing your clients allows your company to receive payments for multiple trips at one time or have a running tab for your invoiced customers.
The following is required to be present on a reservation before it can be added to an invoice:
The Billing Contact MUST have a stored account in your system.
The reservation 'Payment Method' needs to be set to 'Direct Bill-Invoice' under 'Payment Info' tab. This step tells the system that the reservation will go on an invoice.
Helpful Tip: You can set the default Payment Method for an account to DirectBill/Invoice under the 'Financial Data' tab in the account. This way the 'Payment Method' is automatically set to 'Direct Bill/Invoice' on each reservation for them.


In order to create an Invoice in Limo Anywhere:
1. Go to 'Receivables' section in the top menu.
2. 'Create Invoices' tab will be loaded by default.


3. If you have any reservations that are settled with 'Payment Method' set to 'Direct Bill/Invoice', then you will see a list of Billing Contacts.
There are 2 methods you can use to create an invoice:
Creating Invoice using Link
1. Click the blue link 'Create Invoice'.


2. This will bring up the invoice with all trips for the Billing Contact.



4. Set Invoice # (optional).
Note: Invoice numbers are generated automatically using the next number available after the 1st invoice has been created.
5. Set the Terms
6. Enter in PO # (if applicable).
7. Check the reservations you want to add to the invoice.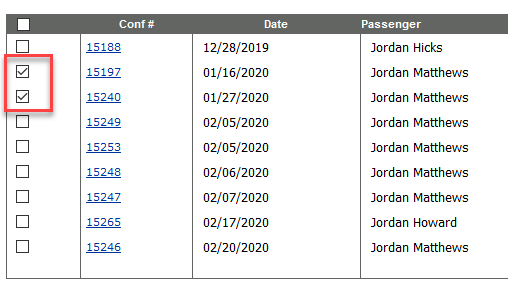 8. Add Customer message (optional).
Note: these are visible to customer on invoice.
9. Add Invoice Notes (optional).
Note: these are only visible internally on invoice screen.
10. Add Discount (optional).
11. Add Extra Charge (optional).
12. Click 'Save Changes'.
Important: The invoice will not be created until you click 'Save Changes' using this method.
Creating Invoice by adding selected trips on "Create Invoice" screen
1. Click the  next [+] to the Billing Contact and this will list all trips ready to be invoiced.
2. Check the trips you want to be on the invoice you are creating.
3. Click 'Add Selected Trips to Invoice'.


Important: The invoice will be created once you click 'Add Selected Trips to Invoice'.
You can now add/update Invoice #, Terms, Customer Message, Invoice Notes, Discount, or Extra Charge on the invoice and 'Save Changes'.
How to Open and/or Modify an Invoice
There are several different ways to open and view an invoice in Limo Anywhere. The most used way to open an invoice is under the Receivables section.
1. Go to 'Receivables'.
2. Click on 'Invoices' tab.
3. Click on the Invoice # (link).


Note: you can also open an invoice from Global Search results or Settlement window.
Once you have an Invoice open, you can modify the invoice if it is not Finalized. Just remember to click 'Save Changes' if you made any modifications.